Gifts for Bourbon Lovers
Can't decide what to buy for the whiskey lover in your life? Leave that to us!
Whether you're a whiskey aficionado yourself, or just a supportive friend, partner, or family member, we understand picking the perfect gift is a challenging prospect. Great bourbon is a timeless, elegant hobby that deserves equally excellent gifts. For that reason, we've tapped into our award-winning experience, expertise, and passion for whiskey to put together this collection of bourbon-related gift ideas.
As bourbon lovers ourselves, we only put items in this collection that we would be excited to receive as a gift. Our hope is that you will be inspired, and maybe even gain some insight into the wonderful world of excellent whiskey.
BARWARE | HOME GOODS | SAUCES
Owning the proper barware is an important step to be able to properly appreciate any whiskey. The shape of the glass we drink out of affects everything from the smell, to the taste, to the feeling of holding it in our hand. Drinking even the same whiskey out of different glasses can be a delightfully different experience; one any bourbon lover is sure to appreciate.
The aesthetic and ethos of bourbon stretches far beyond the act of drinking itself. Our home goods reflect that with everything from a 1.5 liter barrel to store your favorite bourbon in, to a comfortable, fine-cotton pair of bourbon-themed socks.
Likewise, the taste of bourbon doesn't have to be exclusive to alcohol itself. We teamed up with the Ashman Manufacturing Company to produce a full set of barrel-aged bourbon sauces, from barbecue to teriyaki.
We're confident the bourbon lover in your life will be excited to receive any of these items as gifts.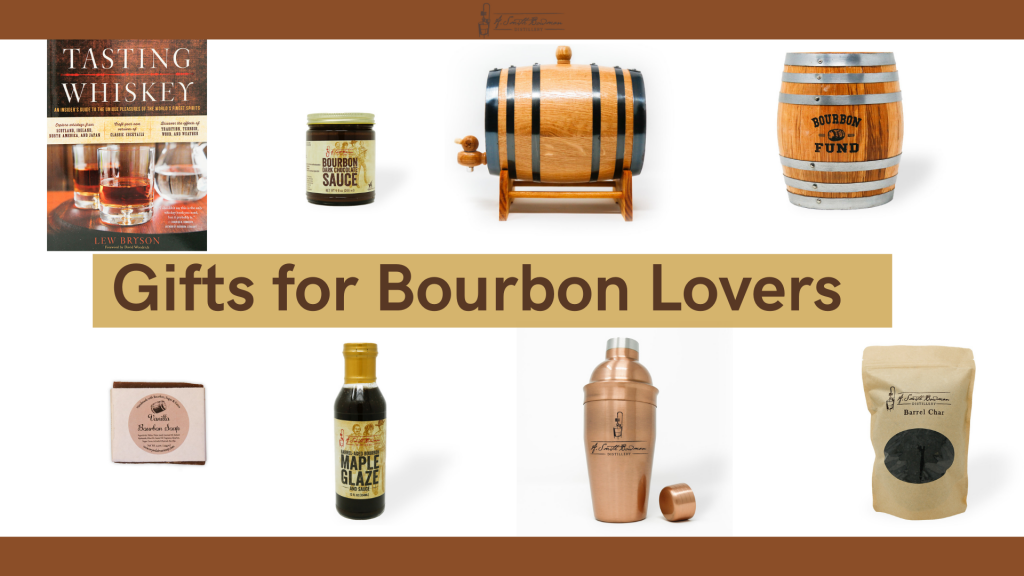 Bourbon Lover Gift Set
While we're firm believers that a great whiskey can be enjoyed under any circumstances, we also know how much the experience can be enhanced by the proper accessories and environments. That's why we've put together this collection of essentials for enjoying any whiskey, including our World's Best Virginia Straight Bourbon Whiskey.
Barrel Aged Bourbon Barbecue Sauce
A true bourbon lover wants to be tasting bourbon at all times. There are no exceptions to this rule. So what better gift for them than our Barrel-Aged Bourbon Barbecue Sauce? Produced in partnership with the Ashman Manufacturing Company, this tasty condiment will give any whiskey lover's grill day the small-batch kick they've always dreamed of. Not a barbecuer? Try out our Barrel-Aged Bourbon Teriyaki Glaze and Sauce.
Angel's Share Candle
As intertwined as smell and taste are, especially when drinking whiskey, smell is the one sense that is inseparable from memory. That's why we teamed up with Candleberry Candle Company to create this intoxicating candle, named and modeled after the warming aroma of whiskey evaporating from barrels during the distillation process. Any bourbon lover will be instantly transported to the cozy
Glassware for the Whiskey Fanatic
Glassware is a perennially excellent gift for any bourbon lover. Drinking a fine whiskey is all about the experience, and the physical object you are drinking from is a huge part of that. Not to mention how impactful glassware is on the flavors you taste and smell in a whiskey. Can you imagine trying to drink a top shelf spirit out of a red solo cup? Neither can we. Our set of Glencairn Glasses ensures that the bourbon lover in your life (and you, and three of your closest friends) always get the full experience of sipping a high-quality bourbon.
Tasting Whiskey: An Insider's Guide to the Unique Pleasures of the World's Finest Spirits
To us, passion is as much about knowledge as it is about enjoyment. We're passionate about our craft, and while we have learned so much from our founding fathers, we also explore that knowledge through deep experimentation and innovation. You can give the gift of further passion to the whiskey lover in your life with this insider's guide to tasting whiskey by expert Lew Bryson. Complete with advice on collecting, serving, and food pairings for your favorite whiskeys, there's no better text for someone who is truly passionate about excellent whiskeys.