Seeing Spirits: Murder Mystery at A. Smith Bowman Distillery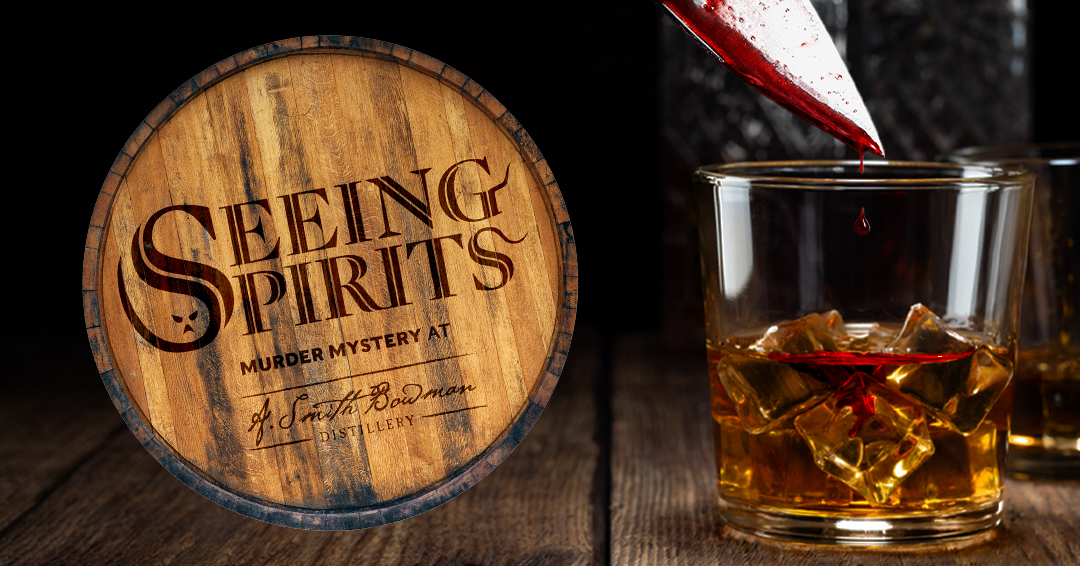 Event Date:
October 8, 2022
Event Location:
A. Smith Bowman Distillery
Are you ready for an exclusive (and eerie) evening of dinner, drinks, and a Halloween homicide?
A. Smith Bowman Distillery and Entrée Act have joined up to bring you our first-ever event of its kind — Seeing Spirits: Murder Mystery at A. Smith Bowman Distillery!
Get into the spirit in your most spooktacular costumes for an interactive whodunit play — "Ghosting Inn!" Enjoy a delicious catered dinner, three hand-crafted cocktails, and memories that will haunt you for a lifetime while you tackle a hilariously ghoulish crime following an investigative reporter and psychic researching a ghostly phenomenon at a nearby Inn. Murder ensues but beware! The culprit is hiding in plain sight somewhere in our Distillery…and you may find yourself as a prime suspect before you know it.
Eat, drink, and be scary as you don your most eerie-sistible Halloween costumes — whoever wins the most votes will receive exclusive prizes that are to die for!
ELEGANT DINNER BUFFET
Dried Cranberry, Almond and Feta Cheese Salad (V, N, GF)
Baby spinach, dried cranberries, toasted almonds, feta cheese and cranberry vinaigrette
Mushroom Garlic Chicken (GF)
Chicken breast sautéed in garlic butter and topped with a tempting mushroom, artichoke, lemon marsala sauce
Grilled Walnut Crusted Salmon Filet
A sweet maple sauce
White Cheddar and Sage Mashed Potatoes
Cider Glazed Root Vegetables (V)
Gourmet Dinner Rolls and Butter
Rustic, pretzel, multigrain, French, jalapeño cheddar, and sesame
The event will be held at A. Smith Bowman Distillery, 1 Bowman Drive, Fredericksburg, VA 22408.
Cost for this event is $65 per person. You must be 21+ to attend this event.
Sorry, this event is expired and no longer available.